Regular price
$48.00 USD
Sale price
$48.00 USD
Unit price
per
Sale
Sold out
Share
I hope you know that it's ok to choose yourself. It's ok to walk away from those who do not value your worth. It's ok to be intentional with your energy and what you invest it in. It's ok to say "no." It's ok to say, "this is enough, because I am enough." You are allowed to protect your peace. You are allowed to create a safe space for yourself. You are allowed to create boundaries. Please do not be afraid of creating boundaries in fear of forming walls. Walls keep everyone out — boundaries allow the right ones in. The people who belong in your life will inherently strengthen the lines you draw instead of intentionally crossing them. Do not bend your circle for those who continue to break it. Do not change the rhythm of your heart in order to feel their love. Do not compromise what's important to you in order to feel important to them. Be brave enough to set clear boundaries and love yourself enough to honor them.
Designed by Bryan Anthonys
Base Material: Non-Precious Alloy
Length: 16-20" Adjustable, Built-in Extender
Diameter: 15.5 mm
Available Finishes: 14k Gold (nickel-free) & Silver (nickel-free)
View full details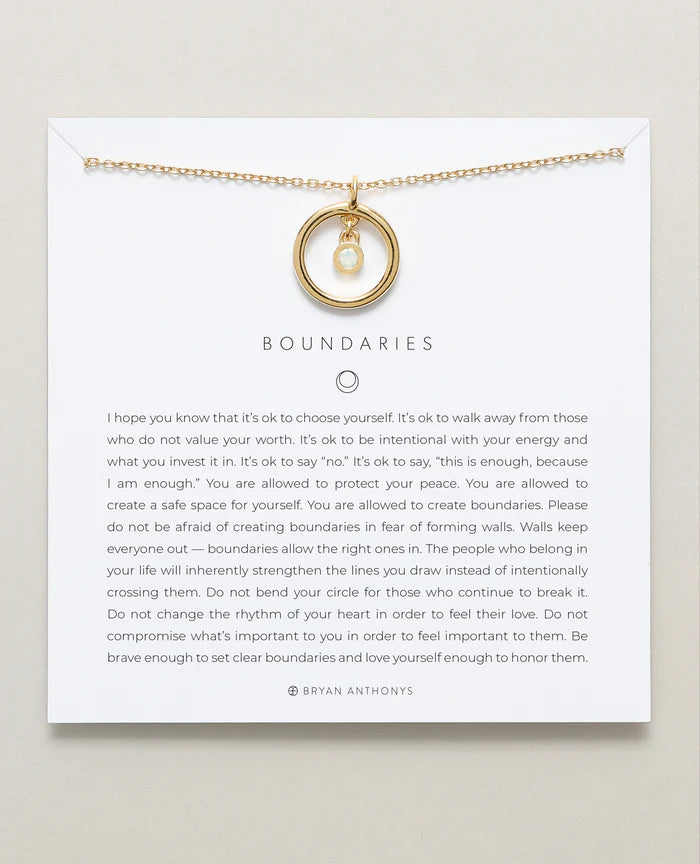 We are two moms whose lives have been impacted by mental illness. It is not discriminatory and we feel everyone should know it is OK not to be OK. There is comfort in conversation and hope in helpful resources.